What Is An E House Substation?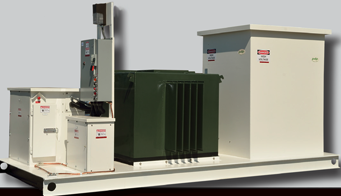 An E house substation is a reliable and time-efficient power supply solution that can be customized to your needs. These are products that are often customized and preassembled as well as are pretested for a variety of situations. The systems are simple to assemble and they can be put into operation within just a few minutes. The overall goal is to provide a rapid and reliable power supply that could be needed for industry or for emergencies. E house substations are considered to be one of the most convenient alternatives to traditional power distribution. They have been installed in a very large population across the United States to handle emergency backup and for the best in network operations.
E houses can provide ongoing electrical power wherever it may be needed. The setup and customization of these systems offer a plug-and-play solution that can suit the requirements of any industry. Once the E House has been customized and built up, it can be assembled on-site or on a trailer for easy power rollout.
Easy Installation
An E house substation is truly designed to be a plug-and-play solution. You can simply switch over to power distribution from this system to have an automatic backup that you can truly rely on. These are systems that are often put in place to work during natural disasters and throughout extreme situations.
E houses are often considered to be around 20% less than the cost of a traditional backup. They require roughly 50% less of the planning cost and with the technology onboard there's a reduced presence required to create a functional power generation solution. Time and space savings with this optimized footprint can ensure that there is a high level of power generation within just a small square footage of your property.
The safety mechanisms that are included with e house substations also ensure that there is a new level of maximum safety for power generation throughout your site. Every E house comes with an environmental health and safety management plan for its activation and there's a smooth implementation process to protect all employees responsible for interacting with these systems.
E houses truly are a one-stop solution as an electrical provider for many industries, buildings and infrastructures. The customizable and integrated power supply serves for building automation systems, industrial systems and more. This safe and efficient power supply solution creates value chains for emergencies and a highly efficient supply throughout your business.
Uses of a Portable Electrical Substations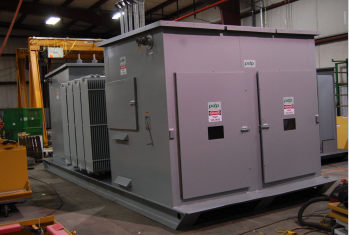 Portable electrical substations are power distribution systems that are designed to provide temporary or emergency power supply to areas where the grid is unavailable or has been damaged. They have several uses across different industries, including:
Oil and Gas Industry: Portable electrical substations are commonly used in the oil and gas industry to power drilling rigs and other equipment in remote locations. They can also be used in emergency situations, such as during power outages or natural disasters.
Mining Industry: The mining industry often operates in remote locations where the grid is not available. Portable electrical substations are used to power mining equipment, lighting, and other operations at mining sites.
Construction Industry: Portable electrical substations are used in the construction industry to provide temporary power supply for construction sites. They can power tools, lighting, and other equipment used during the construction process.
Event Management: Portable electrical substations can also be used for event management, such as outdoor concerts or festivals. They can provide power for lighting, sound systems, and other equipment required for the event.
Utilities: In the case of power outages or when regular substations are under maintenance or upgrade, portable electrical substations can be used as temporary backup power sources to keep the grid running.
Military: Portable electrical substations can be used by the military in emergency situations or for field operations. They can power communication equipment, surveillance systems, and other military equipment.
Swartz Engineering: Mobile Substation Manufacturers
Swartz Engineering is a reputable manufacturer of mobile substations, and there are several reasons why choosing them for your power supply needs is a smart decision. Here are some of the key reasons to consider Swartz Engineering:
Experience: Swartz Engineering has been designing and manufacturing mobile substations for over 60 years. Our extensive experience in the industry has helped us develop a deep understanding of our customers' needs and deliver quality products.
Customization: Swartz Engineering offers customized designs to meet the specific needs of our customers. Our team works closely with our clients to determine the most efficient and effective solution for their power needs.
Quality Components: Swartz Engineering uses only the highest quality components in our mobile substations. From transformers and switchgear to control systems and protection devices, each component is carefully selected to ensure maximum reliability and durability.
Rigorous Testing: Before being shipped to the customer, each mobile substation undergoes rigorous testing to ensure it meets Swartz Engineering's strict quality standards. This testing includes high voltage testing, thermal imaging, and insulation resistance testing, among others.
Fast Delivery: Swartz Engineering understands the urgency of power supply in emergency situations and offers fast delivery of our mobile substations. We maintain a large inventory of pre-manufactured units, which can be customized and shipped within a short period.
Customer Service: Swartz Engineering's customer service team is knowledgeable, responsive, and dedicated to ensuring customer satisfaction. We provide support throughout the entire process, from initial design to installation and beyond.
Innovative Solutions: Swartz Engineering is committed to delivering innovative solutions to our customers. We continuously improve our products and services to meet the evolving needs of every clients and the industry.
Contact Us Today
If you are looking for a reliable manufacturer of mobile substations, look no further than Swartz Engineering. With over 70 years of experience, Swartz Engineering is committed to delivering customized, high-quality mobile substations to meet the specific needs of every customers. Contact Swartz Engineering today to discuss your power supply needs and discover how we can deliver a customized mobile substation solution that meets your specific requirements.
Products We Offer
Swartz Engineering strives to provide top-quality products to achieve our customers needs. Our products include: