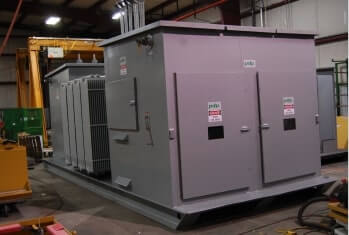 Although electricity is integral to life, many people take it for granted. When it comes to electrical flow, two essential components help provide power to your home or business: switchboards and switchgear. Though they appear similar, their functions are distinct - often working together seamlessly in harmony to generate electricity.
We will explore switchgear and switchboards' roles to comprehend their distinctions better. For a quick overview, keep reading to discover more.
What is Switchgear?
A switchgear is a device that controls, switches, and protects circuits. It can be employed to turn on/off electricity in low, medium, and high-voltage electric circuits such as generators and motors, transformers, and transmission lines, plus power networks in domestic, industrial, and commercial distribution systems.
Features and Components of Switchgear
Switchgear has several distinct components and features that help differentiate it from switchboards. Switchgear is essential in the power system, shielding equipment against high current flows.
Switchgear typically exhibits the following features:
Fast Operation

Complete Discrimination Garantie

Provision for manual control

Ensuring Full Reliability
Switchgear typically consists of two primary components: power switches or control. If there's an issue, these switching components - also called conducting parts - contain circuit breakers, fuses, or lighting arresters for protection.
Power control components may include control panels, protective relays, and current transformers. These work to monitor, regulate, protect, and regulate electricity conduction.
What is a Switchboard?
A switchboard's primary role is safely distributing electricity throughout commercial and industrial facilities. They can redirect and divide incoming power according to individual needs, effectively "switching" energy direction according to specific demands.
Switchboards come in various formats, depending on the application - single panels, assemblies panels, or structural frames.
Features and Components of a Switchboard
Switchboards, which provide electricity, can differ in their components and features from the switchgear.
Switchboards typically feature the following key characteristics:
The switchboard can monitor power consumption through metering.

Front and rear assemblies are easily accessible for servicing or installation.
Switchboards must contain panels or frames as well as control or monitoring devices. These frames include circuit indicators and switches that control the power delivery to each circuit.
Switchboards may also feature control or monitoring devices to connect and regulate multiple power sources, such as frequency gauges and synchroscopes.
Switchgear Vs. Switchboards: What Are the Distinct Advantages?
Four primary distinctions between switchboards and switchgear should be taken into consideration when making your selection.
Switchgear and switchboards differ in four important ways, as they serve distinct purposes.
Hardware components

Variations

Voltage

Safety
Hardware Components
Switchgear and switchboards have several distinct differences. Switchgear consists of switches that turn on/off the power. At the same time, switchboards contain panels with devices that allow the rerouting of energy as needed.
Switchgear is an electrical switchgear that utilizes switching devices to regulate low, medium, and high-voltage electrical circuits. It consists of various parts, such as circuit breakers, lightning arresters, relays, and isolators that control energy flow.
Switchboard panels feature buses, switches, and protective/electrical control devices mounted at the front, back, or both.
Variations
The intended use is another consideration that could alter a difference.
Switchgear is used for turning on and off transformers, generators, and transmission lines. It also powers power networks for residential and commercial use. Switchgear serves two purposes: providing and controlling electricity to loads while safeguarding them from electrical hazards. Furthermore, its use helps identify fault conditions and safely shut off power sources.
Switchboards' primary purpose is to distribute power from multiple sources. They supply individual loads, transformers, and control equipment with uninterrupted electricity.
Switchboards are essential in the distribution of electricity. Their switchgear guards protect equipment from potential electrical hazards and breakdowns due to overcurrent or short circuit conditions.
Voltage
Switchgear and switchboards differ in that each system can handle a different voltage. Switchgear systems offer high voltage capabilities of up to 350 kV, while switchboards only hold 600 volts without being able to handle high voltage.
Safety
Switchgear and switchboards not only differ, but they also possess additional safety measures.
Switchgear typically features automatic safety functions but can also be controlled manually in an emergency. Depending on their location, they can be mounted indoors or outdoors with metal cabinets and casings.
Switchboards come in a range of materials, such as metal or wood. A meter shows how much power each circuit consumes.
Additional Differences Between Switchgear and Switchboards
Other factors include variations in hardware components, uses, and voltage capacity.
Switchgear and switchboard manufacturers craft their products to meet a variety of standards. For instance, switchgear is built and tested according to ANSI C37.20.1 and UL standard 1558.
These switchboards meet NEMA standard P-2 and UL typical 891.
Unfused switchgear must short-circuit testing at a 15% power factor for thirty cycles. Switchboards require testing at 20% power factor for three cycles.
Another critical distinction is cost. Switchgear offers higher reliability, flexibility, and adaptability than switchboards but is more expensive.
Get In Touch With Us Today
Don't take chances on substandard equipment that could put your operation at risk. Swartz Engineering's portable substations are built to last and tailored specifically for you. Our superior quality and dependability guarantees your power distribution system remains up and running when it matters most. Contact us today!
Products We Offer
Swartz Engineering strives to provide top-quality products to achieve our customers needs. Our products include: