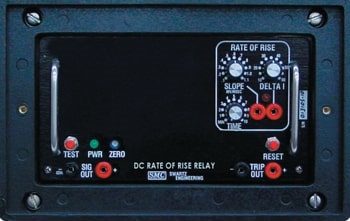 Rate of rise relays are a common protection device used in the transit industry to protect against remote overload conditions. The SWARTZ® Type 150 DC Rate of Rise OCSMC's Relay is one of the most frequently used protective devices, This relay, having been proven effective in many transit systems around the world, rapidly detects a current increase caused by faults and overloads.
Built using a solid state design, the relay features a high immunity to transients and its performance is not affected by varying AC/DC line voltages. It also features an adjustable setting for the rate of rise, providing enhanced protection against bolted faults, arcing faults and severe overloads while allowing normal train starts.
In addition, the SWARTZ® Type 150 DC Rate of Rise OC is built with a draw out construction and for use with any shunt. Calibration controls come with preset and scope and all operating parameters are easily accessible.
This product is designed for easy installation and provides reliable, cost-efficient protection from overcurrent. It is UL listed, CSA certified and meets IEEE standards for protective relays. Its robust design helps ensure consistent performance in the face of harsh environments and transit system demands making it the ideal choice for protecting your trolley wires, third rails, feeders and substations. 
Built-in calibration components ensure that the device continues to protect against overloads and faults, providing a reliable and cost-effective device for the transit industry. The SWARTZ® Type 150 DC Rate of Rise OC Relay has been proven to be an effective overcurrent protection device that services a wide range of trains across the world. Preset scope, calibration controls and robust design make it the ideal choice for reliable protection. 
Having the ability to close automatically and interrupt a fault can ensure your business can remain uninterrupted and your staff can remain protected. Be sure to choose the right overcurrent protection device that won't let you down, and choose the SWARTZ® Type 150 DC Rate of Rise OC Relay. You'll have peace of mind knowing your transit system is protected for years to come. These systems can be quickly integrated with your current lines and maximize efficiency and reliability. 
The Type 150 DC relay can be used alongside other relays including the type 82 automatic recloser relay for added protection and redundancy. With its reliable performance, adjustable setting, and ease of installation, the SWARTZ® Type 150 DC Rate of Rise OC relay is an ideal choice for protection against remote overloads in the transit industry. 
If you would like to learn more about reclosing relays or the best safety equipment that your business can use to protect your equipment, passengers and staff, please contact us. We look forward to helping you find the right product for your needs. 
Contact Us
Additionally, if you're in need of critical repair or replacement services, Swartz Engineering can provide quick turnaround times and quality service to ensure that your transit system is protected from overcurrents and other risks. Contact us today to get started on troubleshooting and protecting your equipment.