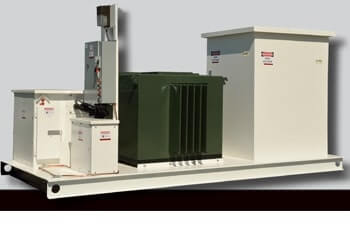 Prefabricated compact substations are a complete solution including distribution equipment for medium and low-voltage switchgear. This type of solution is designed and built by Swartz Engineering for industries such as oil, gas, water treatment plants, petrochemical, mining, and more.
The modular systems offered by Swartz are flexible and can be tailored to the exact requirements of each customer. They come in a variety of sizes and configurations that can be adapted to meet the needs of each client. These suitable 3-phase systems can distribute electrical energy in an AC system within a very compact size.
If you are in a crucial industry where you need portable power, or you would like an easy backup support system for your current system, then a prefabricated compact substation by Swartz Engineering would be ideal for you. 
The benefits these systems have to offer are numerous. First of all, the assembly and installation process is much quicker than with other solutions. The modular design also contributes to a reduced installation time. Additionally, they require less maintenance and are designed to be resistant to harsh environments. This means that the lifespan of these systems is drastically increased and you will have less downtime in case of a potential issue. 
A portable substation can be skid or trailer mounted to ensure that it will be set up easily on your site. These systems take just a few minutes to get up and running and don't require extensive wiring or groundwork. By opting for a prefabricated compact substation by Swartz Engineering, you will be able to enjoy reliable and cost-effective power distribution with minimal effort. 
Another advantage of using Swartz Engineering's prefabricated compact substations is their safety rating. They are built with several layers of protection, including high-quality electrical components and a sturdy enclosure. This ensures that the substation will be able to withstand external environmental conditions. Furthermore, each component has been designed with safety in mind so you can rest assured that your system is working optimally while keeping your employees and customers safe. 
Equipment operation can occur in the most remote of job sites and in environments ranging from -40°C to +40°C. This type of system is ideal for a variety of applications and can be used in portable or permanent backup solutions. 
Rather than using an oil-filled transformer, you can use this distribution transformer and rest assured that it will last for a long time. It also has the advantage of reducing the risk of fire or explosion and the quality of power will be more consistent and environmentally friendly. 
Contact Us Today
Overall, the prefabricated compact substation by Swartz Engineering is an ideal solution for a wide range of applications. It offers numerous benefits such as improved safety and increased efficiency. Additionally, it can be customized to meet your specific requirements and provides power distribution that you can rely on. This solution will reduce your maintenance costs and downtime while ensuring that your system operates at optimal performance. To find out more about this solution and see if it meets your needs, contact Swartz Engineering today! 
Products We Offer
Swartz Engineering strives to provide top-quality products to achieve our customers needs. Our products include: