Reclosing Relay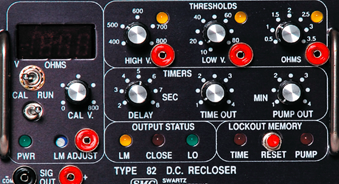 Type 82 DC reclosing relays are solid-state reclosing systems which can prevent a DC breaker closure on a faulted line. When overcurrent trip or fall trip occurs, relays provide load side full verification and then close the breaker with a re-closure feature. This ensures that there is a clear line and that heavy and light rail systems can operate unimpeded.
The Main Features Of A Type 82 DC Relay Include
Load measure memory with ongoing recording to spot signs of trouble and for ongoing maintenance support.
LED meters with accurate and easy reading for a variety of maintenance tasks.
Toronto construction for maximum reliability and durability.
Bidirectional load measuring for a variety of electrical systems.
Voltage compensation for maximum safety.
Internal power supply to ensure that the device can operate even with power fluctuations. Auto compensation for a full range of DC inputs is also included to ensure that the device is widely compatible.
Fault annunciation and built-in calibration make sure this is a relay that can be set up and functional very quickly. A modular construction also works to save space, is draw out, and adds to the durability of the device.
Our reclosing relay is made up of two main units including the DC reclosing array as well as the transducer which is built in a solid-state construction. Transducers on these units come from a self powered which is capable of sending regularly scaled bus voltages to the relay.
Relays can be conveniently and remotely mounted to ensure there is little exposure to traction voltage. With this external mounting from the transducer, space can be saved and the device can be widely accurate without interference.
The relay is responsible for measuring voltage towards the load side of a breaker. It works by detecting voltage that is above the preset values for maximum and it will close the breaker when the line is appropriately cleared. Relays will work to maintain a pre-existing voltage that is set as the line voltage. As long as load measuring is applied on the relay, it will close the breaker when problems are detected.
The value set on the relay is designed as the voltage produced through measuring the current through the load input of the device. Minimum feeder resistance is detected and closures occur if problems are detected from there.
Adjustments occur in real time ensuring that every step of the sequence needs to be tripped after a series of attempts and levels. This can eliminate errors from dead pickup and more.
This relay is capable of operating in temperatures ranging from 50°C all the way to -20°C. with 1 to 3 cycles per close and 1 to 5 pump attempts, this is a sophisticated device that delivers high-quality readouts. Built-in calibrations and fault annunciation insurers that there are no false readouts. Bidirectional load measuring also ensures that this is a device capable of measuring multiple systems for accurate and easy protection.
With applicable uses for a wide range of heavy and light rail applications, we thoroughly test each device and ensure that it can be designed for the utmost in performance and reliability. If you would like to learn more about our advanced reclosing relay, we can provide detailed specs for your company.
We can share details about a wide range of electronic safety mechanisms that could improve your operations. If you are looking for reliable electrical systems for your business in light or heavy rail, contact us today.