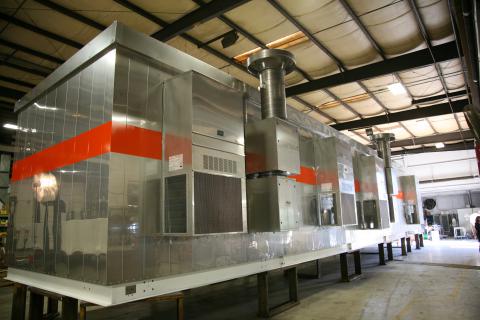 A custom power control room could be the best solution for your business. Whether you work in the heavy equipment industry or any other industry that requires a lot of power, Swartz Engineering can provide you with a control room designed to meet your needs.
When you work with Swartz Engineering, you can be sure that your power control room will be built to withstand the most challenging environments. Our buildings are designed to provide maximum protection against the elements, eliminating potential corrosion problems.
The power control rooms' wall, roof, and ceiling panels are interlocked to maximize structural strength and minimize enclosure weight. Exterior panels are built of galvanized steel and sealed with an electrostatic powder-coat finish to provide the most corrosion-resistant product on the market. Our products have been field-proven in some of the most challenging environments, so you can be confident that they will perform well in your application.
We can create custom storage solutions that keep your equipment organized and easy to access. We can also design and install electrical and mechanical systems to keep your power control room running smoothly. Swartz Engineering can assist with monitoring solutions and safety tools that will help you maintain a safe and efficient work environment.
Storing your sensitive electronic equipment can help to save you money and prevent disruptions during your daily operations. When you work with Swartz Engineering, you can ensure that we will handle all of your equipment's needs for storage and maintenance. We would be happy to discuss your specific needs and provide you with a free quote.
At Swartz, we understand that each customer has different needs regarding their power control room. That's why we offer various options to choose from when it comes to design, material, and more.
These buildings can protect sensitive equipment and ensure that staff has a proper facility to work in. Power control rooms can also be a safety solution in an emergency shutdown. These control rooms can keep your business protected by preventing severe disruptions to your power supply.
We design and build every custom control room in our facility. We then disassemble the room and deliver it to the customer's site. Our team of experts then reassembles and installs everything so the customer can start using their new power control room as soon as possible. Swartz Engineering can install these solutions in everything, including multi-story factory facilities, mining sites, or other commercial applications.
Our quality standards for each build are uncompromised, with the help of our in-house engineering and design team. When you work with us, you can trust that your power control room will be designed and built to last. We perform extensive quality control and testing at every production stage to ensure that our products meet the highest standards.
Our buildings are designed to withstand the most challenging environments, providing maximum protection against the elements. A power control room from Swartz Engineering is an investment that will last for years. Contact us today to learn more about our custom power control rooms and how we can help you protect your business.