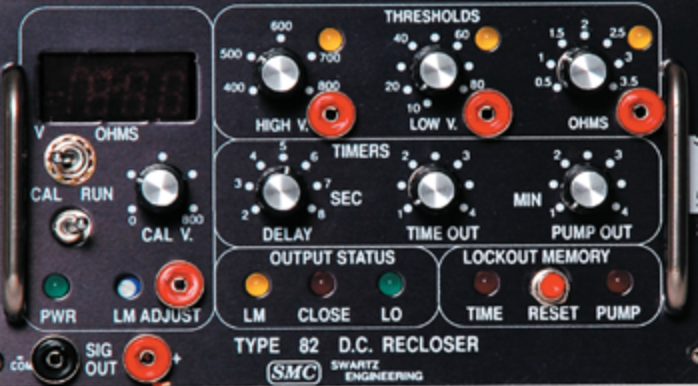 The SWARTZ Type 82 DC Re-closing Relay is a three-phase AC re-closing relay explicitly designed for industrial applications. The relay is designed to provide reliable switching and protection in loads or motor control circuits that draw large amounts of power. It features a protective diode for overload, low voltage overcurrent, and short circuit protection.
The Type 82 relay is designed to handle loads from 6.3 to 120 A and handle voltages up to 600 V AC. The relay is equipped with a 230 V AC coil and is designed for use with motors and control circuits that draw large amounts of power.
The relay features a double cage circuit breaker contacts housing, allowing two independent switches to be mounted on the front of the device. It also has a large, easily accessed terminal head. The Type 82 has a distinctive red paint finish and is packaged in a large plastic housing. The Type 82 features single-pole, double-throw contacts that are rated for 600 V AC at 10 A. The relay itself is AC rated and can handle 600 V AC at 3 A.
Type 82 features a diode protection feature that provides overload and low voltage protection. It is equipped with a double-cage design that allows two independent switches to be mounted on the device. The relay also features large terminals for easy connections.
The relay is installed into two halves of a plastic housing, which can be connected with screws or rivets (visible in the image on the right). This allows for easy installation or replacement of the switching contacts. It also provides a level of protection to the switching contacts by allowing access to them only after the housing is split open.
The internal components of Type 82 are housed in a cast aluminum housing. They are protected from dust and foreign material through an IP68 rating.
Type 82 is active low and features an output trip characteristic, meaning it will close under-voltage conditions.
Type 82 has an output of up to 450 V AC and a maximum load rating of 120 A. It is rated for a minimum voltage drop of 0.3 V and only consumes about 5% of its rated current while in overload protection. The relay also features an overcurrent trip protection capable of handling 7 A at 150 V AC (the kind that you can sometimes see on some electrical devices).
The SWARTZ Type 82 DC Re-closing Relay is known for its ability to withstand harsh conditions such as high heat, vibration, bumping during transportation or service. The low maintenance and reliable working characteristics make them an attractive choice for many industries, including the power industry. They can also be used in motor control applications. If you would like to learn more contact us today!