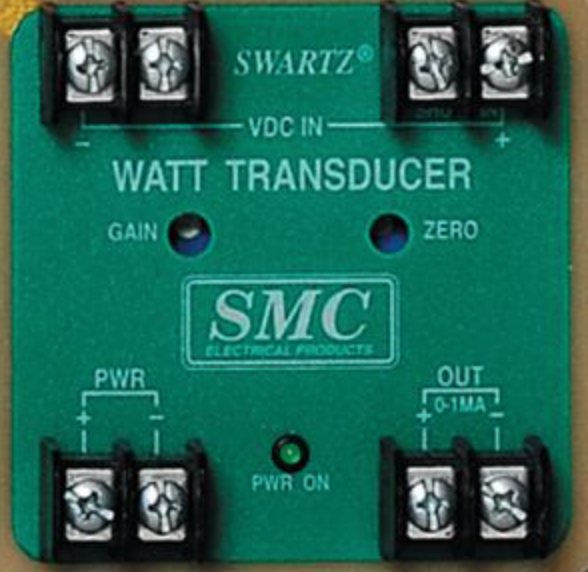 Swartz Watt Transducers is a high-performance and solid-state unit designed to meet the requirements of any data acquisition and supervisory control system. These devices are constructed for rugged use and placed in some of the most hostile environments on earth. The quality of these devices ensure that they can operate from a safe and have keeping battery supplied without the use of a separate AC inverter. With quality battery power as well as a strong solution for low-voltage or high-voltage power supplies, this is a product that can be mounted for any orientation and with easy top cover calibration. 
Watt transducers are fed to always FEP chopper the will of high-voltage isolation support between feeder circuits with loop outputs. The output is a bipolar current source and it will track the signal from the input and close the current feedback located along the positive output. These solutions can provide the best levels of performance for electrical systems throughout any given grid. Introducing a Watt transducer in heavy equipment such as a rail line or freight rail system will improve safety as well as check the current feedback and input signal quality. 
Integrating one of these devices in a solid-state format is made very simple through the easy mounting and the simple battery-powered design. Even the case allows for easy monitoring and quick setup through zero and gains feature. 
Any Swartz power device improves supervisory control and data acquisition systems and will be constructed in a rugged format. The angled base can be mounted at any orientation ensuring that this device can be placed into any configuration and in any location throughout a heavy power system. Rigorous testing takes place for the best performance in the industry and the transducer features a power-on LED as well as a four-quadrant multiplier for improved safety. The over-range capacity as well as a smooth saturation capability for characteristics that range limits make this a device that is made to stand the test of time. We quality check every item before it leaves our factory and packs it for the best in support of our customers. 
All four Watt transducers also include three-way isolation between the power supply, input circuit, and input circuit. This isolation ensures minimal feedback between the systems and keeps the device up and running in the event of a series of electrical events like an arc flash. No aging deficiencies or temperature drift will occur through the magnetic link design. Safety features have been put in place on the invite and wide to offer the best options for customers in heavy power configurations.
Whether you are in need of a new safety feature for locomotive use or you are in the heavy power industry, these devices can help you introduce new levels of safety that can maximize your capabilities as a provider. Contact us today to learn more about our Swartz transducer features or to have a transducer that will be built to suit your specifications.