What Is a Type 32 Reverse Current Relay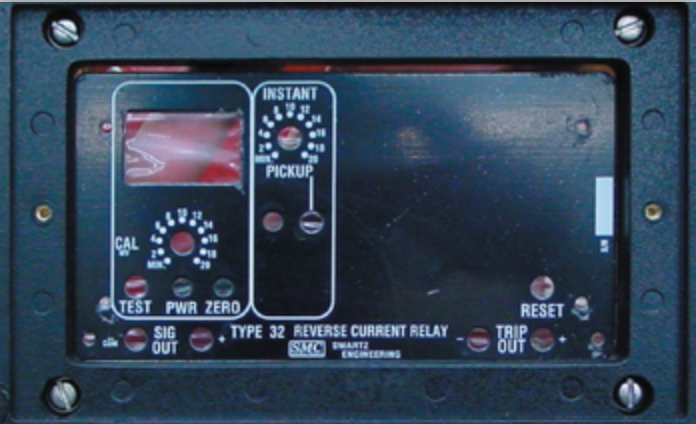 The Type 32 relay is a device with overcurrent monitoring that can be used with a negative or positive conductor for a DC power distribution network. The main function of this detector is to continue monitoring low power levels and to pick up reverse feed currents. As a compatible system for positive and negative conductors with DC power, this is a device that can be used with any shunt and properly calibrated millivolts style monitoring. 
To test the system, there is a built-in calibration control with a series of validation settings from 0 to 20 MV. The test can occur with a push-button function to check the meter and to reverse the threshold as required. The test can be read on the meter or you can use the SIG OUT test jacks through a 0.5V test to manage a 50 mV power level at the shunt. 
The power indicator on the device includes a green light-emitting diode that showcases when it is in operation. The LED monitors for the chance that a fuse may be blown or the output is tripped under failsafe. 
The zero adjustment settings ensure that offsets within the high-voltage isolator can require a quick adjustment via a simple test on the device. Adjustment for the overcurrent unit is initially reset through the substation and the zero shunt circuit will measure out some of the serious digital readings for voltage over time. The offset varies ever so slightly and depending on the installation for the system the offset will also change by up to 1 mV when the detector is tested in bench settings and outside of its enclosure. 
Overcurrent Channel
The instant overcurrent channel includes instantaneous channels between 0 to 20 mV under a set control. Input to learn from the isolator is filtered through the remote control and suppressed back to prevent the chance for nuisance tripping. Test jacks are buffered to also ensure that there is a highly accurate adjustment to the trip threshold. Red LED latches on the device will indicate if a trip has occurred. Contact us today to learn more about our Type 32 Reverse Current Relays!