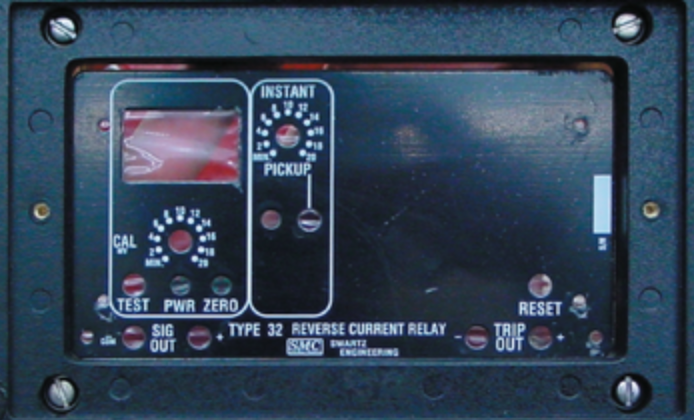 The type 32 Reverse current relay is a device with an isolated current monitor used for positive and negative conductors and DC power distribution networks. The primary function of this device is to continually monitor reverse feeder current at low levels. Front panel controls within the device are calibrated to the mini volt with a detector system that can be used at any shunt in a railway system. The calibration of the device ensures that current monitoring can take place shortly after a digital meter test. 
Testing The System
Built-in calibration on the device includes variable settings from 0 to 20 mV and momentary pushbutton testing switches to check for reverse threshold monitoring. Switch tests allow for functional checks of the reverse threshold and the test current can be read along the meter at a Sig out test jack. Test current is added to any current president in the shunt leads and then monitored for ongoing change.
With a digital meter capable of reading from 0 to 20 mV, this device can monitor for ongoing trips or changes in voltage that could result in complete substation tripping. The other damages of this device include having a system that remains operational when the monitoring LEDs are turned off. If the input power or LED fuses are blown, the device has failsafes on board that can prevent a complete substation trip. 
The instant overcurrent channel provides an instantaneous level of control from current spikes or noise. This ensures that the device can prevent any form of nuisance tripping. Test jacking through a buffered channel delivers a highly accurate level of adjustment on the trip threshold providing extensive current adjustment capabilities. Red LED latches along the main screen indicate when trips occur in the device. 
The type 32 relay can be set up in a breeze. Connecting the digital volt on a letter to the common lead and setting the device to SIG OUT COM will help you choose the desired trip level. Non-calibration for this control is only approximately 10% and this is an alternative method that you can use for managing control in systems that require less precision.
With simple reset functions, multiple failsafes, and easy calibration, the reverse current relay in the type 32 format is an excellent safety tool for your projects. Contact us today if you would like to learn more!