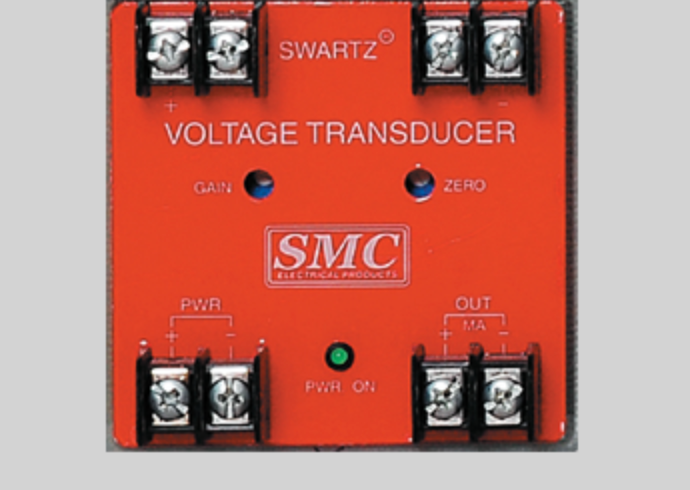 Our Swartz Watt Transducer is a solid state unit built for supervisory control and (SCADA) data acquisition. Each transducer is constructed with heavy components and for rugged use. From the housing down to the battery, we provide every check to make sure these devices will last on your job site. The DC battery supply provides consistent power without the help of a backup or electrical power.
Constructed on an FL angled base, these units include a BNC test point for easy connection with the included test lead. This plug-in style is helpful in allowing user replacements, an important feature if your unit ever has battery disruption. 
The Swartz voltage transducer accepts 0-100 mV full range. The state of the transducer and its configuration can be customized for the needs of each client. With high bandwidth to 1khz and trigger modes like start-stop and string, these units can be used in nearly any application.
These transducers are built for the transmission of data over long distances with low power consumption. The proprietary chip design has an extremely low current draw. 
The voltage input is protected by a peak surge protector, allowing the unit to withstand high energy surges. The transducers are also protected from over voltage conditions, making these units even safer to use in harsh environments.
Find the gain and Zero adjustments along the top of the cover to help you dial in the perfect settings on this device. Top cover calibration, as well as the easy dial-in for intentional offsets, make it a simple solution for many businesses to keep this device accurately recording.
High voltage isolation from the full wave FET chopper provides a full voltage isolation option for more accurate monitoring.  The built-in isolation of the trig mode cuts out noise from common modulating frequency sources, such as a 50/60Hz HVAC system.
With all the features and customizable options available through our Swartz Voltage Transducers, it's no surprise that these devices have become a standard for SCADA data acquisition.
The Power on LED light as well as the multiple monitoring systems ensure that this is a device that can be read in low light and with a magnetic link design. The solid state design and the strong quality of construction will make this a device that is capable of working over years without interruption or replacement. If you are serious about getting the best tools in your business this is a product that does not compromise. The device accounts for environmental factors, wear and temperature drift as well as offers backups to perform in every situation.
The Swartz Voltage Transducer will provide years of reliable data acquisition. With a low purchase cost, easy operation, and no need for power, this device provides everything you need for DC current monitoring. To learn more about our Voltage Transducer, reach out to our team today!
Swartz Engineering manufactures world-class voltage transducers. Utilizing state-of-the-art materials and chip designs, Swartz is able to produce reliable units that are built to last in harsh industrial environments. For more information about Voltage Transducers, please visit our website or contact us today.